Children, teachers and schools could suffer under "potentially draconian" proposals to force primaries to teach sex education, an MP has warned.
Stewart Jackson told a Parliamentary debate that parents could also "be less inclined to take responsibility for their children" if the plans are taken forward.
The debate was initiated by Diana Johnson MP, who asked whether the Government supported making Sex and Relationship Education (SRE) a statutory subject in all Government-funded schools.
Challenge
Currently, primary schools are not required to teach sex education, but local authority maintained secondary schools must do so.
The Department for Education has said that it expects the same from secondary academies, including free schools.
Johnson pressed for new guidance to cover transsexualism and same-sex relationships, teacher training on SRE, and "more than just the biology of sex" in science lessons.
But Jackson said a "coherent social and moral framework" was necessary to challenge a "long-term endemic societal issue".
'Overburdened'
He said the Government should look at the root causes of why pornography is affecting children, "rather than merely treating the symptoms of all the material that is circulating".
He warned that the "potentially draconian measures" proposed could lead to parents being "less inclined to take responsibility for their children".
And Jackson added that, "teachers may be overburdened, and primary schools would be deprived of choice in the matter".
"Sex education is a sensitive subject that requires close consultation", he concluded.
'Make a difference'
In the debate the Government was also urged by Jim Shannon MP to protect the right of teachers to withdraw from promoting values that undermine their faith.
Giving the example of Ashers Baking Company, Shannon said people must have the freedom to live in accordance with their faith.
And he added: "Teachers do not want their teaching to promote the latest Government definition of morality; they want it to help a child to have a fully rounded life and to make a difference."
Consult
At the conclusion of the debate Caroline Dinenage, a Government minister, reiterated that parents have a right to remove their children from SRE – but not the statutory science curriculum.
She said all schools should consult with parents and make their SRE policies available on request.
The minister stated that the Government would give a further announcement at the next stage of the Children and Social Work Bill.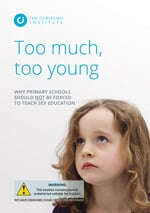 WHY PRIMARY SCHOOLS SHOULD NOT BE FORCED TO TEACH SEX EDUCATION