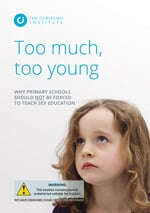 Why primary schools should not be forced to teach sex education
WHY PRIMARY SCHOOLS SHOULD NOT BE FORCED TO TEACH SEX EDUCATION
The Government has announced its intention to introduce a new statutory subject of 'Relationships Education' to all primary schools in England. This could effectively impose sex education on children as young as four. Parents will have no right of withdrawal.
This booklet uncovers explicit resources that have already been recommended for primary-aged children by local councils and others. If sex education is forced on primary schools by a change in the law, we expect the use of such resources to become more widespread.
Under the present law primary schools do not have to teach sex education and so have considerable freedom. Thanks to the good judgement of teachers we believe the most explicit materials are not being used widely. Perhaps this is why campaigners want the teaching of sex education to be centralised – they are not getting what they want when decisions are left to schools.
Parents don't want their children to be exposed to material which sexualises them. Rather than promoting these explicit materials through centralised sex education, action is needed to stop them being used.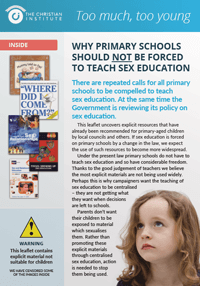 Download summary leaflet
Warning: This booklet contains explicit material not suitable for children. We have censored some of the images inside.