Legalising assisted suicide pressures "the vulnerable, depressed, mentally ill and the socially isolated" to "accede to an early and untimely death", says a member of Western Australia's Legislative Assembly.
If a Bill being considered by the Assembly is passed, adults who are deemed likely to die within six to twelve months would be able to access life-ending drugs.
The legislation is expected to progress and could make Western Australia the second Australian state to legalise assisted suicide, after Victoria did so in 2017.
'Safeguards'
Speaking against the plans of her own state Government, Margaret Quirk highlighted the burden that will be put on vulnerable patients, and dismissed promises of 'safeguards' in the legislation as merely "eligibility criteria".
She also challenged claims that the Bill had only been introduced after extensive consultation.
"Anyone who attended those fora will know that comment was not invited nor wanted from those opposed to the laws", she said.
"The introduction and enactment of laws was presented as a fait accompli."
Mental health
Opposition leader Liza Harvey joined in the criticism, opening up about how her terminally-ill husband decided against travelling to Switzerland and made "three years of memories" with their children before he died.
Harvey highlighted the lack of requirement for a mental health assessment and accused the Western Australian Government of demonising anyone against the Bill.
In 2015 the UK Parliament rejected a Bill brought by Labour MP Rob Marris to legalise assisted suicide. MPs voted against the Bill by 330 votes to 118.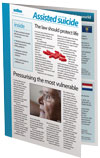 In recent years there has been extensive public debate on "assisted suicide", a form of euthanasia.