A Christian parent governor who was ousted for questioning an inappropriate sex ed policy at her children's primary school has been vindicated by the High Court.
Susan, not her real name, highlighted legal issues with the Gateshead school's Relationships and Sex Education policy in 2021. But the following year, before the official complaints procedure had concluded, the Governing Body accused her of opposing its "collective decision" and banned her from serving as a governor in any school in England for five years.
Following a legal challenge supported by The Christian Institute, the High Court has now reinstated her as a governor after the Governing Body and Local Authority both admitted that the decision to dismiss her was unlawful.
'Devastation'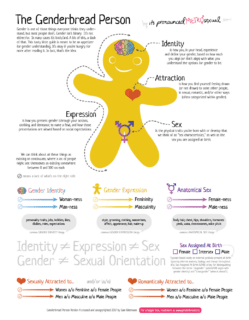 Susan had challenged lesson plans that encourage children to question their own 'gender identity'. This included use of the discredited 'Genderbread Person' diagram, which states as fact that gender is not binary, that 'man-ness' or 'woman-ness' are determined by 'personality traits, jobs, hobbies', not sex, which itself 'exists on a continuum'.
Although statutory guidance stresses that the power to remove a governor "should not be used simply to remove dissenting or challenging voices", an Appeal Panel initially backed the Governing Body's decision to remove Susan.
Following the High Court issuing its order, Susan has been reinstated as a governor but the school's RSE policy is still in place while Susan waits for the Department for Education to respond to her complaint, almost one year on.
She said: "I was concerned at the devastation that might be done to children from teaching gender ideology. I'm absolutely delighted that I've been vindicated. It feels wonderful to be back and helping the school get the best outcomes for all the children there."
'Rewarding'
The Christian Institute's Ciarán Kelly commented: "Had this decision stood, it would have sent a terrible message to school governors. Parents too would be justifiably fearful that those tasked with ensuring their children's education is lawful and appropriate may be more interested in not 'rocking the boat' than doing what is right.
"Rightly, Susan has now been reinstated. We hope her success will reassure parents, inspire more Christians to take up the rewarding role of being a school governor, and encourage existing governors seeking to do what is best for their schools – especially when it comes to upholding the reality of biological sex.
"Likewise, we trust it will discourage any schools inclined to silence such views."
Review
Following the Government's pledge to review the Relationships, Sex and Health Education curriculum, it announced the formation of an advisory expert panel to assist in the task of reassuring parents that "there is no room for disturbing or inappropriate content to be taught in schools".
Rishi Sunak committed to bring forward a review of statutory guidance on Relationships and Sex Education in England in response to a question from Miriam Cates MP.
She told the Prime Minister that children are being "subjected to lessons that are age-inappropriate, extreme, sexualising and inaccurate, often using resources from unregulated organisations that are actively campaigning to undermine parents. This is not a victory for equality, it is a catastrophe for childhood."
The Department for Education is currently collecting evidence, with a consultation on updated guidance expected later this year.