Over 500 schoolchildren have been excluded for sexual misconduct such as watching pornography, new figures have shown.
The Christian Institute responded by urging the Government not to make the problem worse with its Relationships Education plans.
Campaigners for such education, however, seized on the statistics as backing for their drive.
Explicit
An Institute spokeman said: "The sexualisation of children is an increasing problem in our society. What we are missing are clear moral boundaries in education.
"The values-free agenda being pushed by campaigners would only inflame the problem.
"There's a real danger that ideas from these activists will hold sway with the Government as it makes decisions on Relationships Education in the coming months."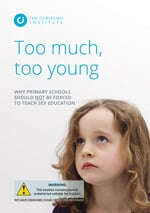 WHY PRIMARY SCHOOLS SHOULD NOT BE FORCED TO TEACH SEX EDUCATION
Misconduct
Following freedom of information requests from the Press Association, local authorities revealed that 523 schoolchildren had been excluded from schools in England for sexual misconduct between July 2013 and April 2017.
The incidents, which saw children watching pornography and sharing indecent images, were more likely to involve boys.
The NSPCC responded to the new statistics by saying sex education must be "dragged into the 21st century", while Barnardo's said the Government's plans on the issue "will help better protect children".
Stonewall pressure
Under the Conservative Government's proposals, Relationships Education will be introduced as a statutory subject in primary schools across England.
The subject will include teaching on "different types of relationships", as well as "boundaries and consent". Parents will not be allowed to withdraw their children from these lessons.
Homosexual lobby group Stonewall has already said it is pressing the Government to ensure LGBT issues are included in "updated guidance" for schools.
Parents
In March, MPs heard that the plans are "confused" and a state imposition on families.
Conservative MP Sir Edward Leigh stressed that parents have the primary duty to bring up their children, and should be able to raise them in accordance with their beliefs.