A recent study published in the scientific journal Addiction has found that gambling can significantly increase violence among men.
Results show that men who gamble are more likely to fight, use a weapon and more likely to act violently towards women and children when compared to non-gamblers.
The study of more than 3,000 men is the first to demonstrate such a clear link between gambling and violence.
Fighting
It has found that more than half of the most addicted gamblers and 28 per cent of 'casual' gamblers have been involved in a physical fight in the last five years, compared with 19 per cent of those who do not gamble.
Results show that gamblers are also more likely to use a weapon in a fight, with 28 per cent of gamblers admitting to using a weapon, compared to 5.8 per cent of non-gamblers.
The study additionally found that men who gamble are more likely to hit a child or woman.
Abusive
The study found that nearly 10 per cent of the most addicted gamblers admitted to hitting a child in the past five years, compared to only 1.6 per cent of non-gamblers.
Similar results were found in those admitting to hitting a woman.
Dr Amanda Roberts, from the University of Lincoln's School of Psychology said: "Our study examined a nationally representative sample of males and confirmed strong links between problematic gambling and violent behaviours, and also showed links with non-problem gambling."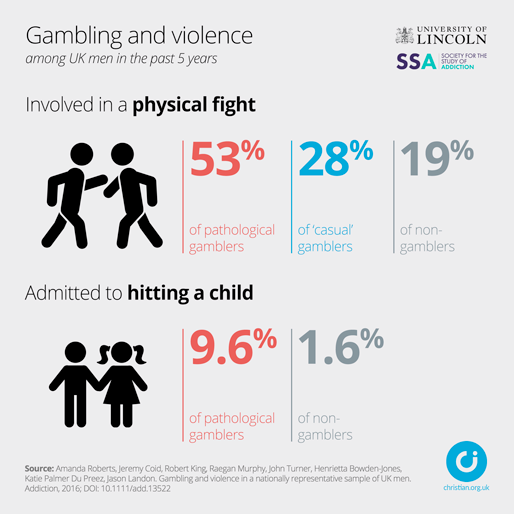 Admission
The participants in the study were men aged from 18-64 and came from a range of socio-economic backgrounds across England, Scotland and Wales.
According to the study: "The level of their gambling problem was determined by scoring a series of 20 questions answered by participants: people with a score of zero to two were classed as non-problem gamblers, those with scores of three and four were defined as problem gamblers, and probable pathological gamblers were those who scored five or more."
The study found that 80 per cent of participants admitted they had gambled at least once during their life.
FOBTs
Last year, the Metropolitan Police recorded an eleven per cent rise in violent incidents in bookmakers, largely fuelled by controversial Fixed Odds Betting Terminals (FOBTs).
The Cabinet Office blocked a review of FOBTs last year.
In 2015, the machines raised £425 million for the Treasury through taxation.