Parents in California are objecting to a new sex education curriculum issued by the state's Department of Education.
Some "sexually explicit" resources have been axed as a result, but the new guidelines still encourage teachers to raise controversial issues such as 'gender identity' with pupils as young as five.
Parents opposing the guidance say it undermines parental rights and exposes children to ideas about sexuality that should be taught at home.
'Sexually explicit'
The guidance claims that children as young as five can be transgender and that teachers have a responsibility to help them "develop an awareness" of their gender identity.
The document also issues advice on how teachers can speak to eleven to 13 year olds about puberty in "an environment that is inclusive and challenges binary concepts about gender".
A previous version said teachers should show images of genitals and use books to teach what "having sex is" to seven and eight year olds.
But after organisations branded the recommended resources as "sexually explicit" and "offensive, reckless and immoral", the department backtracked.
Pornographic
One mum, Patricia Reyes, said: "It's just scary what they are going to be teaching. It's pornography."
And another, Stephanie Yates, asked: "How are they helping kids find themselves when they are confusing them about who they are"?
Greg Burt, Director of California Family Council, said: "Not everything under the sun needs to be taught to our kids, with no moral judgement."
While schools in the state are not forced to use the new curriculum, the state does require students to attend lessons that teach about gender identity.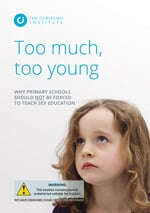 WHY PRIMARY SCHOOLS SHOULD NOT BE FORCED TO TEACH SEX EDUCATION