A look back at 2020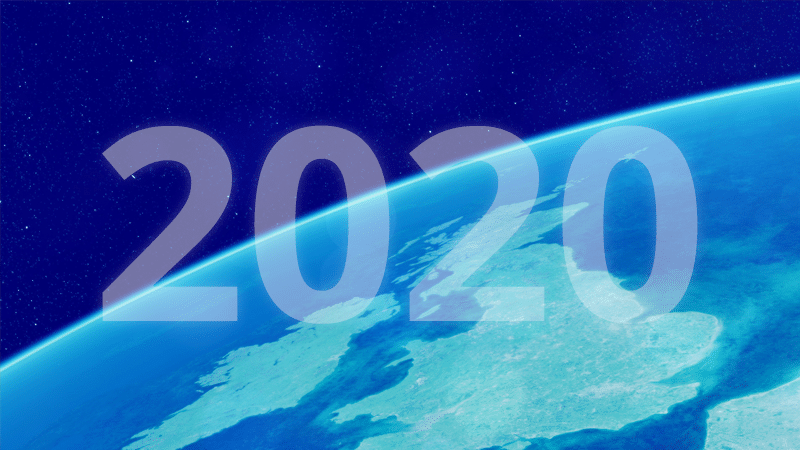 In a year which has seen disruption, anxiety and upheaval, The Christian Institute has continued to work hard to promote biblical Christianity in the public square and to defend Christian freedom.
The issues that made the headlines in 2020
Here is a round-up of our various campaigns, and some of the biggest news affecting our work in 2020.
Church lockdowns
2020 will forever be remembered as the year the world went into lockdown due to coronavirus.
In March, Prime Minister Boris Johnson announced nationwide restrictions to help stop the spread of the virus. Workers were sent home, people were told not to meet with one another, and almost everyone in the UK was largely confined to their home.
While the Institute's work continued across a variety of fronts, a key focus was on enabling church buildings to reopen, after they were ordered to close for public worship for the first time in over 800 years.
They were permitted to reopen in Northern Ireland from the end of June, and the rest of the UK in July, following more than three months of closure. Regular services were able to resume, subject to safety measures including social distancing.
Sadly, the English and Welsh governments banned public worship in churches again during temporary partial lockdowns. But this time, amid pressure from church leaders, MPs and The Christian Institute, the bans were lifted.
Despite more heavy restrictions being announced just before Christmas, we can give thanks to God that church buildings have not been told to close their doors for public worship.
Hate Crime
The Institute has been at the forefront of work to ensure that proposals to expand hate crime law, across all UK jurisdictions, do not restrict gospel freedom.
The Scottish Government's hate crime Bill, put forward in April, sought to criminalise words or behaviours perceived to be 'abusive' and "likely to stir up hatred". In response, The Christian Institute launched the Free To Disagree campaign, which is supported by groups including the National Secular Society and the Adam Smith Institute.
The Bill amassed critics over the course of the year, and in August they were joined by actor and comedian Rowan Atkinson, who previously worked with The Christian Institute on a free speech campaign in 2012. On this occasion, Atkinson, alongside more than 20 other well-known writers, actors and campaigners, signed a letter telling the SNP its Bill risks "stifling freedom of expression".
The Bill was welcomed by the convener of Atheist Scotland however. He said it presented a welcome opportunity to report the Bible for so-called 'hate speech'. Ian Stewart said he would use the Bill to monitor all holy books and sermons and report them to Police Scotland for criminal investigation.
Fortunately, over the course of the year, Scottish Justice Secretary Humza Yousaf announced a number of changes to the Bill to strengthen free speech protections, and to ensure materials such as the Bible are not caught up in the proposals.
In Northern Ireland, a judge commissioned to review hate crime legislation recommended major restrictions to free speech.
In his report, Judge Desmond Marrinan said free speech protections for those who disagree with same-sex marriage should be scrapped, and that hate crime law should be extended to transgender identity, without the benefit of a free speech clause.
The Law Commission for England and Wales also made a number of similar proposals and launched a consultation on the issue.
Legal cases
In April, The Institute helped Christian minister Harry Coulter to sue a Belfast hotel after he was ordered to halt a meeting about traditional marriage. Staff at the Balmoral Hotel interrupted the event, attended by more than 50 members of the public, after one hotel guest complained. The matter was settled out of court at the end of September. Revd Coulter received an unreserved apology from the hotel: management expressed their "sincere regret", and committed to retrain staff to respect human rights.
In May, the High Court heard the case of evangelical fostering agency Cornerstone in its legal battle against Ofsted. The agency was previously rated 'good' across all areas, but in 2019 inspectors downgraded it to 'requires improvement', and labelled the organisation's Christian ethos "discriminatory". Ofsted tried to force the agency to work with non-evangelicals and abandon its religious ethos. Cornerstone's lawyer told the court that Ofsted had misapplied equality law and that this amounted to an abuse of its functions.
In the July verdict, the judge ruled that Cornerstone can work according to its statement of faith, and Ofsted was required to amend its inspection report. But he also said Cornerstone cannot require its carers to abide by its Christian beliefs on appropriate sexual conduct. Cornerstone's lawyers are considering an appeal on this aspect of the judgment.
December also saw the launch of two new legal cases backed by The Christian Institute, involving a CEO and church taking action against a multimillion-pound charitable trust over religious discrimination.
Stirling Free Church had a contract for venue hire torn up by The Robertson Trust after the Chairwoman objected to its biblical teaching on marriage. CEO Kenneth Ferguson, an elder of the church, was disciplined despite recusing himself from negotiations over the hire. He was dismissed from his post shortly afterwards.
Mr Ferguson's employment tribunal is already reviewing the case, while Stirling Free Church's separate case will be heard in February.
Sex Education
In February, The Christian Institute warned Warwickshire County Council it was prepared to take legal action over its explicit Relationships and Sex Education policy.
The Council's policy for primary schools incorporated the controversial All About Me programme, which told children that gender is on a spectrum, and that transgender pupils have the right to use whichever toilet or changing room they prefer. The Institute pointed out that the programme misapplied equality, human rights, and education law.
The programme came in for heavy criticism, but parents expressed delight when it was finally dropped in April following our legal threat.
In September, the Institute warned parents over other explicit sex education materials being used in some secondary schools. The resource, created by The Proud Trust, features graphic activities, including teaching about sex acts using 'body parts dice'. The guide was criticised for downplaying immoral sexual behaviours, and for promoting radical gender ideology.
But in a welcome move later in the month, guidance published by the Department for Education said schools in England must not use gender stereotypes to tell children they might be transgender. It said materials suggesting that children who do not conform to gender stereotypes are trans should not be used, and that schools should not work with external agencies that produce such material.
Conversion therapy
This year saw a number of attacks launched on evangelical, biblical teaching on sexual ethics and gender. The Government has said it wants to ban practices that
seek to change someone's sexual orientation or gender identity. Of course, 'conversion therapy' is a wide umbrella term chosen by LGBT campaigners. It covers abusive practices by quack medical practitioners and charlatan preachers which are largely illegal already.
But campaigners such as Steve Chalke and Jayne Ozanne want to go much further, aiming to stop people criticising LGBT lifestyles or theology. A conversion therapy ban could hand them a veto on the preaching and practice of churches.
Chalke warned churches that they risk "high-profile prosecutions" if they take a biblical stance on sexual ethics and biological sex, calling it "psychologically abusive" to express pastoral concern or pray for people with unwanted same-sex attraction or gender confusion.
Ozanne meanwhile has joined forces with members of other faiths in a campaign to challenge biblical teaching on sexual ethics and biological sex. Her foundation's declaration to affirm and celebrate LGBT practice includes a call to ban "all attempts to change, suppress or erase a person's sexual orientation, gender identity or gender expression". She has also said that churches or individuals that engage in prayer, private conversation and teaching which does not affirm homosexual or transgender lifestyles "should be held to account and face the full force of the law".
Puberty blockers
The Christian Institute was pleased to hear the outcome of another case involving 'detransitioner' Keira Bell. As a teen, Bell was given puberty blockers and cross-sex hormones to make her appear male, but later realised her attempted transition was a mistake. She said gender-confusion should be treated with mental health support, and launched a case against the NHS's Gender Identity Development Service to prevent the clinic from continuing to prescribe the life-altering drugs to young people.
The High Court ruled young people cannot consent to the treatments and so the NHS has suspended new referrals for puberty blockers and cross-sex hormones for under-16s. Judges said it was "highly unlikely" children aged 13 and under could ever genuinely consent, and "very doubtful" 14 and 15-year-olds could.
This followed news in June that the NHS had changed its guidance on puberty blockers to acknowledge some of the dangers. While its website had originally claimed the drugs were 'fully reversible', it was changed to admit that "little is known about the long-term side effects".
Abortion
At the end of March, the Government introduced the UK's most liberal abortion law in Northern Ireland, despite a consultation revealing 79 per cent of respondents opposed it. The new law went far beyond the rest of the UK, allowing abortion up to 12 weeks without restriction, up to 24 weeks for a wide range of reasons, and up to birth on the grounds of disability.
The Northern Ireland Assembly at Stormont voted for a motion rejecting Westminster's liberal abortion law at the beginning of June. The result did not change the law, but made clear to Westminster that the regulations are not wanted by Northern Ireland's elected representatives.
In England, Health Secretary Matt Hancock introduced new regulations allowing women to take abortion pills at home for any reason up to 10 weeks after a remote conversation with a doctor, though just days earlier he had said abortion rules would not change. He said the new regulations would last for two years or until the end of the pandemic, whichever came first, but the Government later launched a consultation on making the change permanent.
Smacking
Despite fierce campaigning from the Institute-backed Be Reasonable campaign, and significant public opposition, a Bill to criminalise parents who smack their children was given the go-ahead by the Welsh Parliament this year. Amendments to mitigate the most damaging aspects of the legislation were all rejected and parents will be at risk of prosecution from 2022.
The Scottish Government had passed a similar Bill late last year, and its own smacking ban came into force in November. Sociologist Dr Ashley Frawley said Holyrood's lack of adequate public awareness-raising meant the first some people would hear of the ban would be when they received a knock at the door from the police.
In Memoriam
In 2020, a number of well-known believers have passed into glory, including family campaigner Norman Wells and author John J Murray, who both went to be with the Lord after contracting COVID-19 at the height of the pandemic.
A friend of the Institute, Norman had been Director of the Family Education Trust since 2004 and had also served on the Board of the Coalition for Marriage.
Revd Murray, a well-known minister, wrote a number of Christian books, as well as speaking for the Institute on several occasions.
Later in the year, J.I. Packer, one of the most influential Christian leaders of modern times, passed into glory aged 93. A prominent preacher and teacher, he is perhaps best known for his book 'Knowing God' and his work as General Editor of the English Standard Version of the Bible.
The year ahead
Thank you for standing with us through this challenging year. Your prayers and support are invaluable. We give thanks to God and trust him to provide for us, and for you, in 2021.
From everyone at The Christian Institute, we hope you have a blessed new year.