People would be pressured to end their lives prematurely if assisted suicide is legalised, a campaign group has warned.
Care Not Killing (CNK) gave the caution in the wake of a British man who called for a change to the law ahead of his own assisted suicide.
Richard Selley, 65, went to the Swiss assisted suicide facility Dignitas and recorded a video message calling on politicians to act.
Abuse
However, CNK said changing the law – a move backed by Dignity in Dying, the activist group formerly known as the Voluntary Euthanasia Society – would negatively impact vulnerable people.
Chief Executive of CNK Dr Gordon Macdonald expressed his sorrow at Mr Selley's death and how it was being used to try to justify radical new legislation.
"Such a change in the law will put vulnerable people at risk of abuse and of coming under pressure to end their lives prematurely."
He noted that Westminster and Holyrood have both rejected assisted suicide, in part because of concern over the absence of any genuine safeguards.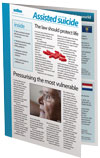 In recent years there has been extensive public debate on "assisted suicide", a form of euthanasia.
Palliative care
Dr Macdonald added that the experience of other countries should make Scotland wary of going down the same path.
In Ontario, Canada, a hospital has faced criticism for advertising euthanasia in its urgent care waiting room.
"The ad makes no mention of palliative care or other means to reduce or eliminate suffering without killing", said one critic.
Euthanasia, along with assisted suicide, was legalised in Canada four years ago.