Guidance on transsexualism in schools which sidelines parents does not have the 'formal endorsement' of the Scottish Government – despite months of appearing to do so.
The Christian Institute warned in May of legal action over the guidance because it was misleading.
Now both the Government and the LGBT group behind the document have backtracked, seven months after it was published.
Parents not told
The guidance advises that school children 'should be supported to explore and express their identity regardless of their age', and that parents should not be told if their children are sharing overnight accommodation with transgender pupils.
It says staff and pupils should be required to use a transsexual pupil's preferred pronoun, regardless of their personal views, or risk being regarded as 'transphobic bullies'.
On the front cover of the guidance, the logo of the Scottish Government appears with that of LGBT Youth Scotland.
And inside, the Scottish Government's logo is the first among those of other groups which are presented as endorsing the guidance.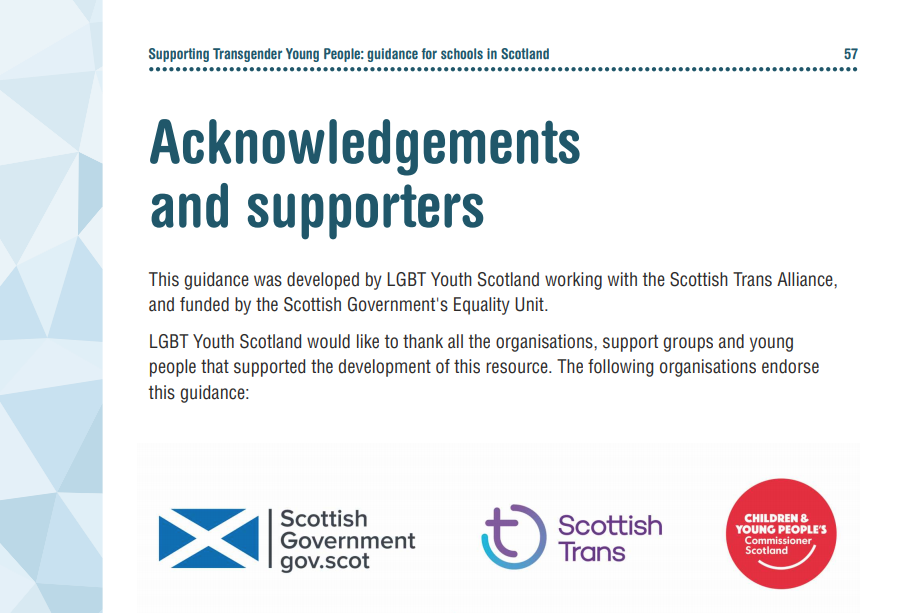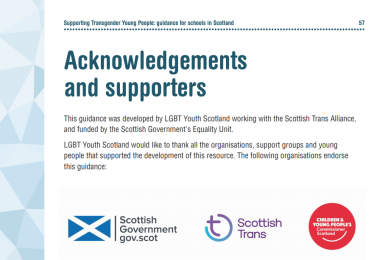 Error
But LGBT Youth Scotland now says "the inclusion of their logo in the list of organisations endorsing the guidance was an error".
The Government said: "We did not take any decision to formally endorse the guidance as we do not take a prescriptive approach to the curriculum in Scotland."
Ciarán Kelly, a Deputy Director of The Christian Institute, responded: "The Scottish Government are either being disingenuous or are seriously confused. Either way, they've got themselves in a mess.
"This shocking guidance clearly states in black and white that it is endorsed by the Scottish Government.
No denial
"When it was launched in November last year, it was widely reported by the media the Scottish Government endorsed it.
"Surely if it had been done without permission, someone would have said so?
"They had every opportunity to deny it then but didn't."
Judicial Review
'Supporting Transgender Young People: Guidance For Schools in Scotland' says teachers should not tell parents if their child changes gender in school unless the child, who could be as young as four years old, gives permission.
It adds that if parents are "struggling" with their child's transgender identity, staff can consider raising this with the local authority.
The letter from Institute lawyers raised the possibility of a Judicial Review against the guidance. This was the same process through which The Christian Institute defeated the Scottish Government on the Named Person issue in the UK Supreme Court.
A Judicial Review would challenge the basis for the decision to fund and support guidance containing legal errors which are likely to mislead schools.