Feminists have admitted destroying the car of a German journalist who endorsed a March for Life event.
Gunnar Schupelius' home address was publicised in a threatening blog post by Feministische Autonome Zelle (FAZ) and the group has also taken responsibility for damaging two churches.
Schupelius is a columnist for the prominent BZ newspaper. He says the attack will not deter him.
'Warning'
On New Year's Eve, the radical feminist group wrote that it had decided to 'curtail his freedom' and attack him "where it hurts: with his car".
"We torched his SUV today. The BMW SUV parked in front of his apartment", it said, before giving his address and adding: "Schupelius lives there with his children".
It continued: "Gunni, since this is already the second warning, we would strongly recommend that you change your job".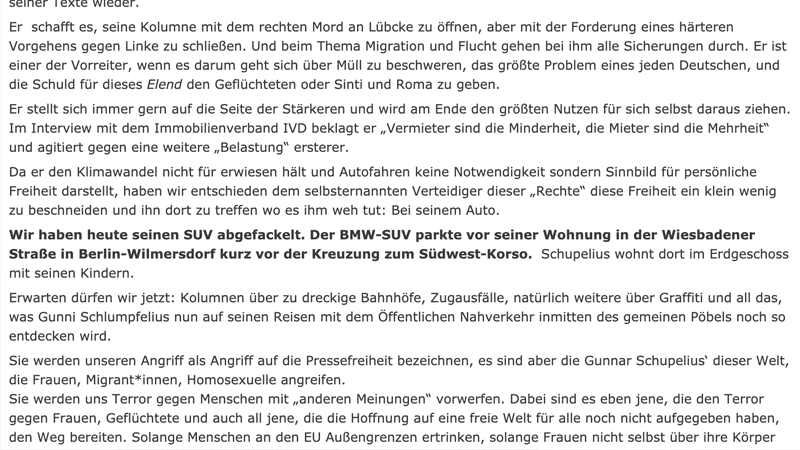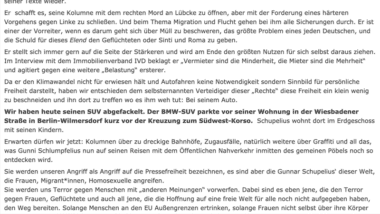 An extract from the blog post (in German)
Churches attacked
The actions faced stinging criticism from a local mayor and bishop, while the Chairman of the German Association of Journalists called the attack "disgusting".
FAZ has also admitted vandalising one Pentecostal and one Roman Catholic church.
It said both were attacked for holding 'anti-feminist' views.
Verbal assault
Last year, a peaceful pro-life campaigner in the USA was verbally abused by a state politician.
The lady was offering help to pregnant women outside a Planned Parenthood in Philadelphia.
Representative Brian Sims branded her "extremely racist", "disgusting" and "grotesque", and repeatedly shouted "shame on you" while attacking Christianity as a whole.
Embarrassment
The video was viewed over one million times, with one social media user saying: "The great state of Pennsylvania should be utterly embarrassed by having this man be a representative.
"He may believe and advocate for what he wants but this is not the way to do it. Absolutely zero professionalism."