Doctors in the Australian state of Victoria have helped 52 patients to kill themselves in the six months since an assisted suicide law came into force, it has been revealed.
Of the 52 people, 43 died from self-administering lethal drugs, while nine were killed by their doctor.
The law currently applies to terminally ill people who are expected to live six months or less, and those with a neurodegenerative condition who are to live less than twelve months.
Contradiction
The report revealed that a total of 136 people have applied for assisted suicide since the law was implemented.
Margaret Tighe, President of Right to Life Australia, said: "As we predicted – once the genie is out of the bottle and doctors have been given the power to end life, at a patient's request, the siren song of an early death will become very seductive".
She added: "On the one hand Victorian society calls for more suicide prevention and on the other hand it embraces physician-assisted suicide".
Opposed
In the UK last month, the Royal College of General Practitioners announced that it is to maintain its opposition to assisted suicide, following a survey of its members.
The independent survey of 6,674 doctors found that 47 per cent said the College should oppose a change in the law on assisted suicide.
Of the remainder, 40 per cent felt the College should back a change, eleven per cent favoured neutrality, and two per cent abstained.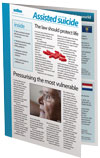 In recent years there has been extensive public debate on "assisted suicide", a form of euthanasia.