Ten-year-old children are being quizzed on their 'gender identity' in a school survey, it has emerged.
The survey, sent by the Lancashire Care NHS Foundation Trust, asks year six pupils: "Do you feel the same inside as the gender you were born with?"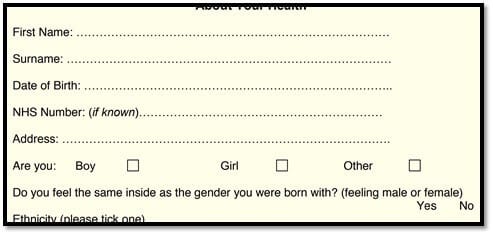 An increasing number of pro-trans initiatives are hitting schools, despite reports that only one child in every 20,000 experiences gender dysphoria – or feeling 'trapped in the wrong body'.
Parental concern
The Lancashire survey shocked parents, including Lyndsey Simpson, whose ten-year-old daughter received it.
She told the Daily Telegraph: "I don't want someone putting into my daughter's head that she might not be happy with her own gender".
Lyndsey said the school's head teacher was unaware of the content of the NHS survey, adding that his "jaw dropped" when she told him.
Intrusion
Jacob Rees-Mogg MP called the question "quite intrusive", adding, "these are private matters in a family.
"The problem with this approach is not just with the question but with the intrusive survey that invades people's privacy and assumes the state has a role in a matter that actually belongs within the family.
"These questions are not likely to be helpful. The child is too young – if they have these sorts of issues, the parents are the right ones to discuss it with, not a state survey."
'Deeply worrying'
Tim Loughton MP, a former Children's Minister, described the question as "deeply worrying".
He said: "At a time when children are growing up and having to deal with all sorts of challenges of the modern world, now they are being asked to confront their gender, which for many will be unsettling.
He added, "forcing children to question whether they are the right gender so early on can be deeply destabilising".
25 gender options
Last year, Brighton school children were handed a survey which listed 25 gender options, including "tri-gender" and "demi-boy".
The survey, produced by the Government-sponsored Children's Commissioner for England, told pupils they could choose 'as many as they wanted' from a variety of responses alongside "girl", "boy", "female" and "male".
Question 13 of the survey asked: "How do you define your gender?". It gave 25 options including "gender fluid", "agender", "genderqueer", and "in the middle of boy and girl".
'Adult agendas'
At the time Simon Calvert, Deputy Director of The Christian Institute, said: "We must not intrude on childhood by deliberately confusing school children about what makes a boy a boy or a girl a girl just to satisfy adult political agendas.
Mr Calvert has previously hit out at schools' regulator Ofsted for asking pupils if they knew anyone "born in the wrong body" during its controversial 'British values' inspections.