More than 11,000 people have signed a petition calling on the University of Leicester to scrap advice for students on how to make money from pornography.
The University has produced two toolkits, one for students and one for staff. While the Student Sex Work Toolkit does explain that soliciting for sex or running a brothel are illegal, it highlights that activities including being an escort, stripping in person or on camera and working in the porn industry are all legal.
The guide also tells staff and students to operate with "a non-judgemental and supportive attitude", and not to "listen to or perpetuate myths regarding sex work" or "assume the student wants to leave sex work".
Coercion
The petition states: "These documents claim to be aimed at supporting 'students who are sex workers' but they read more like a guide to getting into the sex trade and fail to provide substantial support for students in difficulties.
a guide to getting into the sex trade
"Picture this: a young female student is being coerced into the sex industry by her boyfriend to fund his drug habit. She turns to the toolkit for advice but there's no guidance about protecting herself from coercion and pimping. There's not even a mention that they are common in the sex trade.
"What about a young woman who realises she's made a terrible mistake and wants to get out? Again, no help whatsoever."
No warning
It continues: "The toolkits fail to mention a single organisation whose primary focus is helping women quit the sex trade".
"Warnings about the well-documented physical and psychological harms that prostitution causes? Total silence.
"Signposting to guidance on budgeting, hardship loans and grants, and other employment options? Nothing."
'Human rights violation'
The petition's authors question how this can be justified, saying: "Would a toolkit for students who are drug users fail to warn of the potential harms of drug use?
"Would it exclude any mention of support to quit drugs? Would its list of organisations that help drug users include only those that are lobbying for the full decriminalisation of all drugs? Of course not.
"While the documents don't explicitly promote prostitution as a reasonable response to students struggling to pay their tuition or halls of residence fees, that is the implicit message.
"By using the 'sex work' terminology, the documents frame prostitution as a normal form of work and not as the violation of human rights recognised under international law."
Nordic model
The strongly-worded challenge to Leicester's toolkit is being led by a group called Nordic Model Now.
The 'Nordic Model', first adopted by Sweden, targets the 'demand' side of prostitution by making the purchase of sex a criminal offence.
However, it has been strongly criticised for encouraging sex trafficking because it also decriminalises the 'supply' side.
More than half of UK prostitutes have been raped or suffered indecent assault and three quarters have experienced physical violence. Over half the prostitutes involved in one study said that they had feared for their lives at least once.
'Pain and oppression'
The Christian Institute's Social Policy Analyst, Dr Sharon James, said: "Prostitution should never be condoned or facilitated in any way. It is shocking that Leicester University is telling students that it's ok to sell access to their bodies. This guidance will only serve as a green light for abusers and exploiters.
"So called 'sex work' is the most exploitative industry in the world. It's built on pain and oppression – especially of women and girls.
"Those who do get caught up in it need help to exit, not encouragement to stay. Young students should not be directed into the traps that could be laid for them by potential abusers."
Prostitution should not be condoned or facilitated in any way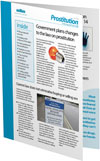 Policing and Crime Bill
Included in this briefing: