A Scottish health board has announced a change to its policy on data sharing in light of the UK Supreme Court's historic ruling against the Named Person scheme.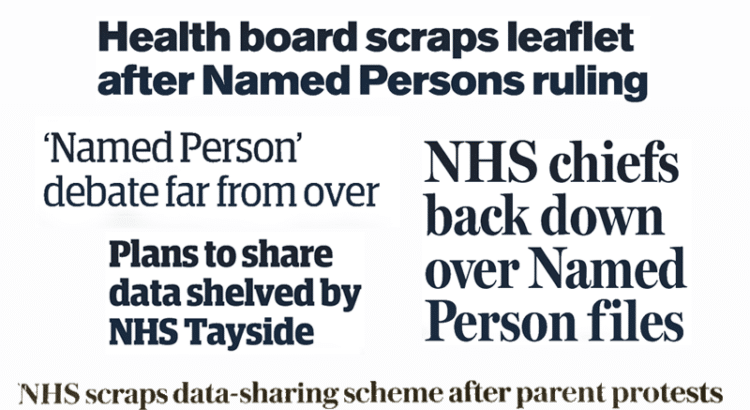 The issue received widespread media coverage
NHS Tayside had been routinely handing out a leaflet to parents at its A&E departments telling them that, following Named Person guidance from the Scottish Government, "your own details or those of your child may be disclosed to other professionals".
After an intervention from a member of the No to Named Persons campaign, the leaflet has been scrapped.
Legal victory
Lesley Scott, of TYMES (The Young ME Sufferers) Trust, wrote to NHS Tayside highlighting its obligation to comply with this year's Supreme Court judgment on the controversial Named Persons scheme.
In July, the Supreme Court upheld an appeal against the Scottish Government by The Christian Institute, Tymes Trust and other concerned organisations and parents.
Five judges ruled unanimously that a central part of the scheme – the plan to allow state officials to share sensitive personal information without consent – is unlawful.
Review needed
Mrs Scott received a reply from the Chief Executive of NHS Tayside Lesley McLay, who wrote: "I wish to confirm action has been taken to withdraw the leaflet from distribution and to carefully reconsider NHS Tayside information governance procedures".
Responding to the news Mrs Scott said: "I am delighted NHS Tayside did the right thing. But many other health and local authorities may be operating similar schemes which have the potential to breach data protection laws."
She called on Deputy First Minister John Swinney to review pilot versions of the Named Persons scheme, which were implemented by health boards and local authorities and have been in operation for some time.
Mr Swinney, she said, has "stubbornly maintained the named person pilot schemes currently operating across the country are unaffected by the ruling from the UK Supreme Court".
'Cavalier'
Her concern was echoed by Simon Calvert, spokesman for the No to Named Persons campaign, who said: "The Scottish Government has spent years encouraging a cavalier attitude to family privacy.
Now they've been stopped in their tracks by the Supreme Court, it is really up to them to make sure all public bodies are revising their policies and practices to comply with the court ruling."
John Swinney has vowed to press on with some form of the Named Person scheme despite the serious ramifications of the Supreme Court judgment.