School children are being taught about the principles behind the controversial Named Person scheme by a theatre company.
Hopscotch Theatre Company has been touring primary schools with its "Rights of the Child" production – using music such as "We've got the Right" and the "SHANARRI song".
Schools are paying the theatre company £405 for the production to be performed.
Sing the praises
The No to Named Persons (NO2NP) campaign described the play as "pro-Government propaganda", as the SHANARRI principles of 'wellbeing' are foundational to the Named Person role.
Spokesman for NO2NP Simon Calvert said: "I hope parents will tell schools they don't want their children to have anything to do with it."
"Who thought it was a good idea to teach children to sing the praises of Government policy?", he added.
Monitor
Under the Named Person plans, every child in Scotland will be assigned a guardian from the state to monitor their wellbeing.
The scheme is set to be implemented in 2016, but a coalition of concerned groups and individuals is challenging the proposals in court.
Hopscotch's song "We've got the Right", encourages children to sing that "rights are super cool".
Wonderful dream
In the "SHANARRI song", children are told they can "brighten up the weather" and "make a wonderful dream" if the wellbeing indicators are met.
In lesson plans for the production, children are encouraged to think about who is "responsible for ensuring that children get all the things they need to be happy, safe and healthy".
Parents are only listed alongside other adults, caregivers and family.
Wellbeing Wheel
Hopscotch says that the songs are "a great way to teach your pupils the UN Convention on Rights of the Child and remember the Wellbeing Wheel".
The Wellbeing Wheel is set to be used by Named Persons nationwide to measure the 'happiness' of children.
The Mail on Sunday commented: "The SNP's decision to impose a state guardian on every Scottish child is wrong-headed.
"Even at this late stage, ministers should think again."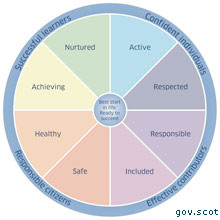 The SNP's Wellbeing Wheel
Indoctrination
NO2NP's Simon Calvert said: "People are already worried that the Named Person will undermine parents without this exercise in softening up children's minds."
He said: "When there are countries where girls are banned from going to school and boys are recruited as child soldiers, this attempt to use an international children's rights convention to draw pupils into supporting unpopular Scottish Government policy is, frankly, repulsive."
Alison Preuss of Schoolhouse, a supporter of NO2NP, said: "Parents send their children to school to be educated, not indoctrinated".
Inclusive
Responding to media coverage of the story, Hopscotch said: "The show is about inclusion and fairness and is an entertaining adventure with songs and jokes and a bit of fun to lighten up what could be an otherwise dull subject."
It said it had "absolutely no idea what the Named Person Scheme was".