A motion calling for prostitutes to "have the same rights as those in other industries" has been overwhelmingly rejected by the Trades Union Congress (TUC).
The train drivers' union Aslef led calls for the TUC "to adopt a policy in favour of full decriminalisation and to campaign alongside appropriate organisations to achieve this".
But delegates struck down the motion at the TUC conference in Brighton today, citing concerns that it could have benefited brothel owners and pimps.
Exploitation
Sue Ferns, of the TUC General Council, said that decriminalisation would only further the exploitation of sex workers.
"While it is certainly true that women are driven into prostitution out of desperation, drug addiction and economic necessity, it doesn't follow that we should campaign for the decriminalisation of pimps and brothel owners who benefit from women's poverty."
She added: "What other jobs are there where extreme violence, sexually transmitted diseases, unwanted pregnancies and rape are common workplace hazards?"
'Vulnerable'
Before the vote took place, Labour's former Deputy Leader spoke out against the motion, saying on Twitter: "Noooooo! So wrong #tuc protect the vulnerable & exploited! Don't legitimise their exploitation."
Following the vote, Mrs Harman praised the decision:
Well done #tuc defeating motion to institutionalise exploitation of women & men. Who benefits from prostitution? Pimps & punters.

— Harriet Harman (@HarrietHarman) September 13, 2017
Reacting to the decision, Colin Hart, Director of The Christian Institute, said that decriminalising prostitution would be "utterly disastrous".
"Implementing the plans would have exploited women and increased demand for human trafficking. So the vote from the TUC is very welcome indeed."
'A known violence'
Last year, Jeremy Corbyn faced strong criticism after it emerged that he is in favour of decriminalising prostitution.
Labour MP Jess Phillips criticised the party leader's position, stating that prostitution is "a known violence against women".
In England and Wales, the act of prostitution is not in itself against the law, but certain activities such as soliciting in a public place and kerb crawling are illegal.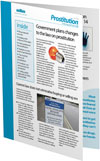 Included in this briefing: