The British public backs the right of politicians to say that "gay sex is a sin", a new survey has found.
An opinion poll by ComRes for The Christian Institute found that a clear majority of people support the right of politicians with traditional views to express them.
Liberal Democrat leader Tim Farron has been bullied on his views concerning homosexuality in recent days. On Tuesday, he told the BBC that homosexual practice is not sinful.
Overwhelming agreement
Responding to the statement, "If a politician believes that gay sex is a sin they should be free to express it", two thirds of Brits (64 per cent) agreed, while just one third (32 per cent) disagreed.
The poll found little variation across age groups with 62 per cent of 18-24 year olds, 67 per cent of 45-54 year olds, and 69 per cent of pensioners in agreement.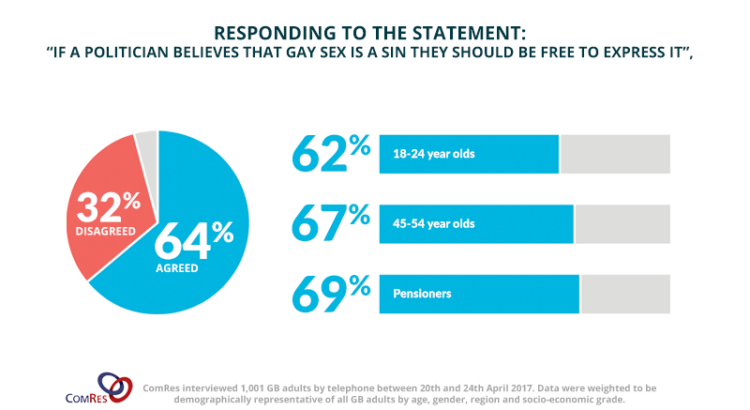 There was some variation between the sexes however, with a full seven in 10 men (73 per cent) and 55 per cent of women agreeing with the statement.
'Intolerance'
Colin Hart, Director of The Christian Institute commented: "The intolerance shown towards a politician, just because he was thought to believe that gay sex is wrong, is deeply troubling.
"The poll shows Mr Farron needn't have worried. Most voters think politicians should be free to speak on such matters.
Politicians should not be silenced or hounded out of office just for holding these views.
"Historic Christian belief holds that gay sex, adultery and sex before heterosexual marriage (fornication) are wrong. This belief is also shared by virtually all the other world faiths including Judaism, Hinduism, Sikhism and Islam.
Deep concern
"Politicians should not be silenced or hounded out of office just for holding these views, otherwise we diminish our democracy and risk marginalising millions of ordinary people.
"We are deeply concerned at the way those with beliefs out of kilter with dominant secular thought are being targeted and forced out from the public square."
Mr Hart concluded that the poll sends out a clear message that those trying to shout Christians down and "accuse them of bigotry and homophobia do not represent the majority".
Questioning
The Christian Institute commissioned the poll in the wake of the media uproar over Mr Farron's comments during an appearance on Channel 4 News, where he was repeatedly asked whether he thought homosexuality was a sin. On Sunday, the Lib Dem leader was quizzed on whether or not homosexual practice is sinful by Robert Peston.
Tim Farron has been bullied – there is no other word for it.
Asked again on Tuesday by Eleanor Garnier on Radio 4's PM programme whether he thought that gay sex was a sin, the Lib Dem leader admitted that in previous interviews he had been evasive but said that he now wanted to make clear that gay sex wasn't a sin.
His earlier evasion had drawn criticism from a number of celebrities who branded him a "bigot" and an "absolute disgrace".
'Bloodsport for secularists'
In an article for the Daily Express yesterday, Ann Widdecombe said the attack on Farron is a "pretty good example of tyranny dressed up as tolerance and is an affront to democracy.
"Tim Farron has been bullied – there is no other word for it."
And writing for The Spectator on Tuesday, Stephen Daisley said: "This is not journalism, it's bloodsport for secularists. He added that Farron is "not being asked to clarify his political principles so much as repudiate his faith.
"It is an ugly business and one that will be causing Farron acute anguish, something which his pursuers must know. The sight of talented broadcasters reduced to tormenting a politician for his religious affiliation makes for unpleasant viewing."