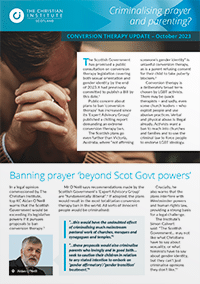 Conversion therapy update – Scotland
January 2023, Updated October 2023
The Scottish Government has promised a public consultation on conversion therapy legislation covering both sexual orientation and gender identity by the end of 2023. It had previously committed to publish a Bill by this date.
Public concern about plans to ban 'conversion therapy' has increased since its 'Expert Advisory Group' published a chilling report demanding an extreme conversion therapy ban.
The Scottish plans go even further than Victoria, Australia, where "not affirming someone's gender identity" is unlawful conversion therapy, as is a parent refusing consent for their child to take puberty blockers.
Conversion therapy is a deliberately broad term chosen by LGBT activists. There may be quack therapists – and sadly, even some church leaders – who exploit people and use abusive practices. Verbal and physical abuse is illegal already. Activists want a ban to reach into churches and families and to use the criminal law to force people to endorse LGBT ideology.
References
1'Equality, Opportunity, Community: Our Programme for Government', Scottish Government, September 2023, page 32; Scottish Parliament, Conveners Group Official Report, 28 September 2022, col. 25
2 'Have you experienced a change or suppression practice?', Victorian Equal Opportunity & Human Rights Commission, see https://www.humanrights.vic.gov.au/change-or-suppression-practices/have-you-experienced-a-change-or-suppression-practice/ as at 6 October 2023
3 The Christian Institute re proposals for the Scottish Parliament to legislate with a view to bringing to an end in Scotland "Conversion Practices" related to individuals' sexual orientation and separately to their "gender", Aidan O'Neill KC, December 2022 (available at https://www.christian.org.uk/wp-content/uploads/aidan-oneill-ct-opinion.pdf as at 6 October 2023)
4 Ibid, para. 5.1
5 Ibid, para. 5.10
6 Ibid, para. 5.12
7 The Christian Institute, Press Release, Scottish Govt on new collision course with courts, 12 December 2022
8 The Christian Institute re proposals for the Scottish Parliament to legislate with a view to bringing to an end in Scotland "Conversion Practices" related to individuals' sexual orientation and separately to their "gender", Aidan O'Neill KC, December 2022, para. 2.3 (available at https://www.christian.org.uk/wp-content/uploads/aidan-oneill-ct-opinion.pdf as at 6 October 2023)
9 'Ending Conversion Practices Expert Advisory Group', Scottish Government, see https://www.gov.scot/groups/ending-conversion-practices-expert-advisory-group/ as at 6 October 2023; Expert Advisory Group on Ending Conversion Practices Report and Recommendations, Scottish Government, October 2022
10 Expert Advisory Group on Ending Conversion Practices Report and Recommendations, Scottish Government, October 2022, page 17
11 Ibid, page 4
12 Ibid, page 26
13 Ibid, page 4
14 Ibid, page 39
15 The Christian Institute letter to Scottish Parliament Presiding Officer, 21 January 2021 (available at https://christian.org.uk/wp-content/uploads/Letter_to_Presiding_Officer_re_EHRCJ_on_CT_Jan_2022.pdf as at 6 October 2023)
16 Report on Petition PE1817: End Conversion Therapy, Equalities, Human Rights and Civil Justice Committee, Session 6, SP Paper 88, 25 January 2022, para. 168
17 Scottish Parliament, Official Report, 15 March 2022, cols 49 and 52
18 Scottish Parliament, Official Report, 15 March 2022, col. 45
19 Oral evidence: Scottish Parliament Equalities, Human Rights and Civil Justice Committee, 7 September 2021, col. 6
20 The Guardian online, 9 June 2021, https://www.theguardian.com/world/2021/jun/09/conversion-practices-church-of-england-bishop-backs-prosecution as at 6 October 2023
21 Premier Christianity, 1 December 2021, see https://www.premierchristianity.com/interviews/jayne-ozanne-the-christian-campaigner-explains-why-she-wants-to-ban-hate-prayer/5807.article as at 6 October 2023
22 Jayne Ozanne tweet, 12 December 2021, see https://twitter.com/JayneOzanne/status/1469968961659981829 as at 6 October 2023
23 Oral Evidence: Petition: Conversion Therapy, Equalities, Human Rights and Civil Justice Committee (Scotland), 2 November 2021, col. 6
24 'Government forced to extend public consultation on conversion therapy after Fair Play For Women threatens legal action.', Fair Play For Women, 9 December 2021, see https://fairplayforwomen.com/government-forced-to-extend-public-consultation-on-conversion-therapy-after-fair-play-for-women-threatens-legal-action/ as at 6 October 2023
25 Loc cit
26 'Press pause on conversion therapy law', Sex Matters, 14 November 2021, see https://sex-matters.org/posts/sex/press-pause-on-conversion-therapy-law/ as at 6 October 2023
27 Human Rights Implications of Proposals to Ban 'Conversion Therapy', April 2021 (available at https://christian.org.uk/wp-content/uploads/Christian%20Institute%20Conversion%20Therapy%20Advice%20-%20updated.pdf as at 6 October 2023)
28 Ibid, paras 21 and 35 (available at https://christian.org.uk/wp-content/uploads/Christian%20Institute%20Conversion%20Therapy%20Advice%20-%20updated.pdf as at 6 October 2023)
29 The Christian Institute re proposals for the Scottish Parliament to legislate with a view to bringing to an end in Scotland "Conversion Practices" related to individuals' sexual orientation and separately to their "gender", Aidan O'Neill KC, December 2022, para. 6.16 (available at https://www.christian.org.uk/wp-content/uploads/aidan-oneill-ct-opinion.pdf at 6 October 2023)
30 Ibid, para. 6.12
31 Stonewall Scotland, LGBT sector submission to call for views on conversion therapy petition, August 2021, see https://www.stonewallscotland.org.uk/sites/default/files/lgbt_sector_submission_to_call_for_views_on_conversion_therapy_petition.pdf as at 6 October 2023
32 Change or Suppression (Conversion) Practices Prohibition Act 2021, Section 5 (Victoria)
33 Change or Suppression (Conversion) Practices Prohibition Act 2021, Part 2 (Victoria); Maximum Penalties, Sentencing Advisory Council, see https://www.sentencingcouncil.vic.gov.au/about-sentencing/maximum-penalties as at 6 October 2023
34 'Victoria's Conversion Practices Act is a genuine assault on religious freedom', Murray Campbell blog, 30 September 2021, see https://murraycampbell.net/2021/09/30/victorias-conversion-practices-act-is-a-genuine-assault-on-religious-freedom/ as at 6 October 2023
35 'Have you experienced a change or suppression practice?', Victoria Equal Opportunity and Human Rights Commission, see https://www.humanrights.vic.gov.au/change-or-suppression-practices/have-you-experienced-a-change-or-suppression-practice/ as at 6 October 2023
36 Daily Mail Australia online, 14 August 2022, see https://www.dailymail.co.uk/news/article-11101415/Parents-counsellors-face-prosecution-gender-transition-children-suppression-law.html as at 6 October 2023
37 'Conversion therapy to be illegal in Canada in 30 days', CTV News, 8 December 2021, see https://www.ctvnews.ca/politics/conversion-therapy-to-be-illegal-in-canada-in-30-days-1.5699251 as at 6 October 2023
38 Bill C-4, 8 December 2021 (Canada)
39 'Canada bans "sincere expressions of religious beliefs"', Let Us Pray, 10 December 2021, see https://letuspray.uk/latest/canada-bans-sincere-expressions-of-religious-beliefs as at 6 October 2023