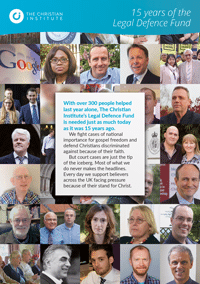 With over 300 people helped in 2020 alone, The Christian Institute's Legal Defence Fund is needed just as much today as it was 15 years ago.
We fight cases of national importance for gospel freedom and defend Christians discriminated against because of their faith.
But court cases are just the tip of the iceberg. Most of what we do never makes the headlines. Every day we support believers across the UK facing pressure because of their stand for Christ.