William Tyndale: England's greatest Bible translator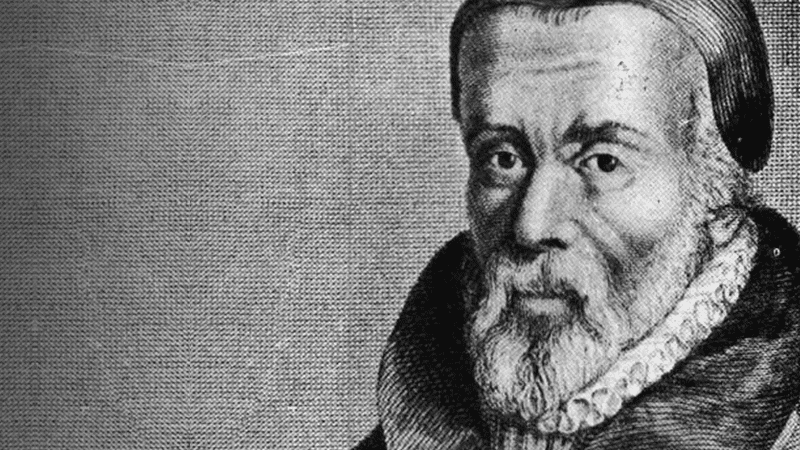 October 6 marked 485 years since England's greatest Bible translator was burned at the stake for daring to defy the Pope and the King by presenting the scriptures to the people in their own language.
During The Christian Institute's 2017 Autumn Lecture series, Brian Edwards, author and former president of the Fellowship of Independent Evangelical Churches (FIEC), explained that the English Bible we read today can largely be credited to William Tyndale, a man used by God to bring about revolutionary change in English society.
In 1523 London could number its citizens by the thousands, its crimes by the hundreds and its places of worship by the scores.
Men and women wandered past the religious institutions which held them in superstition and fear. They had no knowledge of the word of God which was withheld from them in Latin by the Church.
Just 15 years later, the Bible was being distributed in English to churches across the land. God's word would be freely accessible to every man, woman and child who could read or be read to.
Reformation minded
Tyndale was probably born in Gloucestershire in 1491. By 1506, he was studying at Magdalen College, Oxford, before being ordained into the priesthood of the Church of England.
Concerned with the theology of his Oxford colleagues, he is thought to have transferred to Cambridge around 1519. Here he was among a score of upcoming reformers who were discussing the ideas of the Reformation and the work of a certain German monk by the name of Martin Luther.
In 1521, he crossed swords with a local friar who, following a heated debate, exclaimed: 'we'd be better off without God's law than the law of the Pope'.
Tyndale replied: "I defy the Pope and all his laws. If God spare my life ere many years, I will cause the boy that drives the plow to know more of the Scriptures than you!"
Thus began Tyndale's life's work – translating the Bible into the language of the common people.
Exile
This at a time when it was forbidden for a person to read the Bible in English without a priest's permission and people were burned at the stake for teaching others the Lord's Prayer in English.
Tyndale fled England. In 1524 he travelled to Hamburg and then to Cologne, and by 1525 he was starting to print the New Testament in English, before copies were smuggled back to England on German merchant ships.
Amidst barrels of grain were thousands of English New Testaments, available for the price of a load of hay.
Lasting influence
Skilled in Hebrew, Greek, Latin and several other languages, the accuracy of Tyndale's rendering has been commended by experts.
But he aimed to communicate the Gospel, not just translate, and in the foreword to his New Testament, he urged readers to repent and trust in Christ for themselves.
Medieval historian Ian Mortimer describes Tyndale as, "the only writer in the English language more influential than Shakespeare". Many of his phrases remain in language today and he introduced new terms including "scapegoat" and "Exodus".
By 1530, his translation of the Pentateuch had arrived in England. But King Henry declared that Tyndale's books should be burned and punishment doled out to owners. Tyndale was a hunted man, constantly on the lookout for King Henry's agents.
Martyred
Early in the summer of 1535, Tyndale was betrayed by his friend Henry Phillips who invited him to lunch and then ambushed him. He was imprisoned outside Brussels for a year, accused of heresy.
In October 1536, William Tyndale, England's greatest Bible translator was chained to a stake, partially strangled and then burned.
His final words are said to have been: 'Lord, open the King of England's eyes'.
God's word for all
Tyndale's prayer was answered in that a short time later the Great Bible – based on the work of Tyndale – was presented to Henry VIII and approved for distribution to churches across England.
Brian Edwards concluded: "Tyndale's legacy is in the pages of every English Bible you ever pick up".
A version of this article was first published in 2017.