Lessons from the Scottish church lockdown case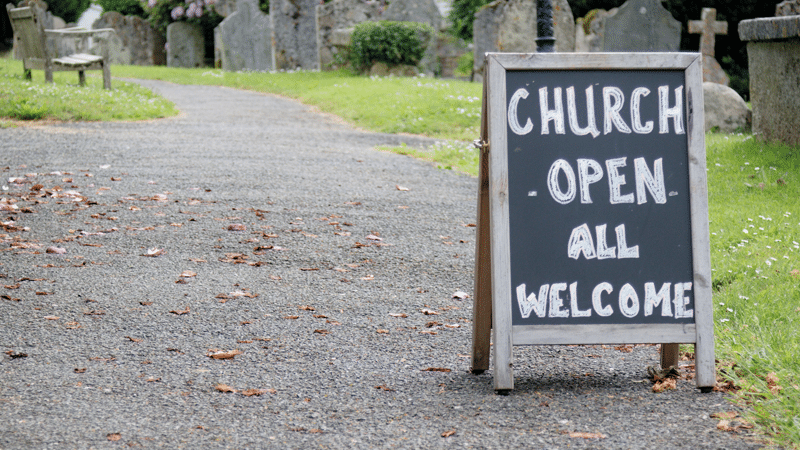 Last week, Scotland's Court of Session ruled that the recent closure of churches there was unlawful. Lord Braid found that while the Scottish Government paid "lip service" to religious liberty, "there is no evidence that they have accorded it the importance which such a fundamental right deserves[1]".
The Judicial Review was brought by a group of 27 evangelical church leaders with the assistance of the Christian Legal Centre. One of the church leaders who brought the successful case, Revd Dr William Philip of the Tron Church in Glasgow, said:
"We hope this judgment will have a positive effect … so that churches won't be closed down again unnecessarily… but also in a more general way that it will make our Government …think much more carefully…"
In a separate move, a Roman Catholic Priest, Canon Tom White, also sought a judicial review. His legal action was sponsored by Alliance Defending Freedom UK.
Why is this an important case? And now that churches have reopened anyway, does it have any long-term significance?
Legal freedoms provide an important platform for godly living and witness to the truth
Wise use of the law
The case helps to protect the religious liberty of churches. But more than that, it encourages Christians to make wise use of the law.
The governing authorities can use the law for good or ill. There can be laws which guarantee basic freedoms, as in the UK, or laws which persecute Christian believers, as in China or North Korea. That's why the apostle Paul urges believers to pray that there may be freedom to live a godly life and to share the gospel (1 Timothy 2:1-4). We should therefore value and defend our religious liberty for the benefit of all.
It's all too easy to become discouraged and even 'retreat' when we see society rejecting its Christian values and heritage. But this recent judgment reminds us that we still have many good laws which can restrain wrong decisions by our politicians.
The reality is that believers can and do make a difference in our national life, including in the courts.
Far from being automatic or 'run-of-the-mill', these freedoms have come to us in God's providence after centuries of Christian influence on the nation. We must not take them for granted. Let's show our thankfulness by taking God-given opportunities to preserve and defend them.
Making a difference
The reality is that believers can and do make a difference in our national life, including in the courts.
One example – cited twice in the Scottish churches case – is The Christian Institute and others v The Lord Advocate (Scotland), better known outside legal circles as the 2016 Supreme Court judgment on the infamous 'Named Person' scheme. We give thanks to God that it's one of many successful CI-run cases.
The scheme would have assigned a state guardian to every child in Scotland over the heads of parents. The Supreme Court said that was unlawful – just as the Court of Session did in the churches case last week. And the named person ruling stands as a fantastic protection for family freedom across the UK for years to come.
In a democracy the public can influence decisions and hold the Government to account. Our freedoms allow people to champion (or oppose) a whole host of causes. Believers should stand for what they know to be good and right and true (Ephesians 5:9), not least the freedom to live godly lives and speak the truth.
The Government is required to abide by legal boundaries when it makes decisions
The Government is required to abide by legal boundaries when it makes decisions – rules on health and safety, the environment and data protection, to name but a few. It cannot just do what it likes. We should, we must, remind and challenge decision-makers to respect their legal obligations in matters relating to religious liberty too.
Biblical examples
The apostle Paul made use of legal freedoms afforded by Imperial Rome in God's common grace. It's instructive to consider that Paul, with great wisdom, put Roman law to good effect to benefit the churches and take opportunities for gospel witness (Acts 16:37; 21:39; 22:25; 23:17).
Paul's example is not unusual. The Old Testament books of Ezra and Nehemiah record appeals to Persian rulers, which greatly assisted the rebuilding projects among the returning exiles in Jerusalem.
Ezra chapters 5 and 6 give an account of Tattenai's letter to Darius questioning the legality of the rebuilding of the walls in Jerusalem and seeking Darius' response. A search is made in the imperial records for any previous legal rulings on the rebuilding work. In essence, this is a judicial review! And Darius finds in favour of the Israelites.
It is not surprising that chapter 6 concludes with the Israelites celebrating, "because the Lord had filled them with joy by changing the attitude of the king of Assyria, so that he assisted them in the work on the house of God, the God of Israel." (Ezra 6:22)
So, like the Israelites, let's give thanks for this excellent ruling and be encouraged by it to use and safeguard our cherished freedoms.
[1] Paragraph 120 https://scotcourts.gov.uk/docs/default-source/cos-general-docs/pdf-docs-for-opinions/2021csoh032.pdf?sfvrsn=0