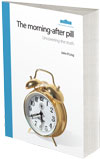 John R Ling
The morning-after pill is now more widely available than ever before. It is marketed as the ideal early solution to unwanted pregnancies. It is given a key role in the drive to combat teenage pregnancies.
But serious ethical issues are at stake. Can the morning-after pill act to destroy a human embryo? Does the morning-after pill encourage sexual promiscuity?
In this comprehensive but plain-speaking book John Ling sets out how the morning-after pill works and its wider social effects. Taking in evidence from science to philosophy, and from God's law to British law, he argues that the morning-after pill demands a powerful Christian response.
© 2007 The Christian Institute