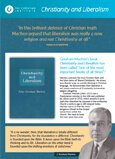 "In this brilliant defence of Christian truth Machen argued that liberalism was really a new religion and not Christianity at all."
FRANCIS SCHAEFFER
Gresham Machen's book Christianity and Liberalism has been called "one of the most important books of all times".
Machen contrasts the true Christian Faith with the false claims of 'liberal Christianity'. He shows how liberals wrap up worldly thinking in Christian language. He demonstrates that Liberalism is not simply one form of Christianity, but another religion altogether.
Gresham Machen (1881-1937) was a Presbyterian minister in the USA and published his classic work in 1923, which remains in print. Sadly the Liberalism he opposed in the professing Church a century ago is still rampant today. Machen warns us that the most dangerous threat to the Gospel comes from within the Church. We need to heed this now more than ever.
References
1'How Scotland Lost Hold of the Bible', 16 July 2017, Banner of Truth, see https://banneroftruth.org/uk/resources/articles/2015/scotland-lost-hold-bible/ as at 14 August 2017
2Machen, G, Christianity and Liberalism, Grand Rapids, 2009, page 47
3Ibid, page 49
4Ibid, page 54
5Ibid, page 55
6Ibid, page 36
7Ibid, page 37
8Ibid, page 59
9Ibid, page 66
10Ibid, page 60
11Ibid, page 62
12Ibid, page 67
13Ibid, page 82
14Ibid, page 74
15Ibid, page 88
16Ibid, page 97
17Ibid, page 98
18Ibid, page 99
19Ibid, page 122
20Ibid, page 111-112
21Ibid, pages 133-134
22Ibid, page 135
23Ibid, page 135
24Ibid, page 148
25Ibid, page 146
26Ibid, page 100
27Ibid, pages 116 and 130
28Ibid, page 82
29Ibid, page 115
30Ibid, pages 84-85
31Ibid, page 149
32Ibid, page 150
33Ibid, page 129
34Ibid, page 130
35Schaeffer, F A, 'The Great Evangelical Disaster', The Complete Works of Francis A. Schaeffer, vol. 4, Crossway, 1985, page 350
36Lucas, S M, J. Gresham Machen, EP Books, 2015, pages 87-88 and 109