News Release
Christians decry atheist power-grab in Welsh schools
Welsh Government proposals would give anti-religious campaigners a 'veto' over religious education
Parental right of withdrawal from RE to be scrapped
Christians have warned of a "power-grab" by anti-religious campaigners in Wales which could see religious education further marginalised in the school curriculum.
New Welsh Government legislation, produced in collaboration with Humanists UK and the National Secular Society, would replace Religious education with new teaching on Religion, Values and Ethics (RVE). Unlike RE, pupils would be forced to attend all lessons. The parental right of withdrawal to protect freedom of conscience is to be abolished, despite strong support for it in the public consultation. (See Notes for Editors below.)
The proposals, described as a "direct attack" on the teaching of religion, would also see decisions over the content of RVE handed to new 'non-religious' committees to be established in every local authority area.
Although the last census recorded only 815 humanists and 1506 atheists in Wales, Kirsty Williams' Bill guarantees them their own committee on the body responsible for drawing up the RVE curriculum. This will enable them to block RE proposals from the Roman Catholic, Church in Wales and other religious groups, representing 1.8 million people
Humanists UK and the National Secular Society both campaign openly to "end" all faith schools (see Notes for Editors below.) This is a deeply intolerant position rejected by the overwhelming majority of people in Wales where faith schools are popular with parents of all beliefs and none. Around 12% of pupils in Wales attend a Catholic or Church in Wales school.
When Education Minister Kirsty Williams introduced her Bill in the Welsh Parliament on 15 December, she started her speech on RVE by thanking anti-religious campaigners:
"Turning to religion, values and ethics, I would like to express my appreciation to all stakeholders, including the Wales Humanists and the National Secular Society, for their contributions, as well as our education delivery partners, including the Church in Wales and the Catholic Education Service." Official Report, 15 December 2020, Column 429
Commenting on the proposals Simon Calvert, Deputy Director for Public Affairs at The Christian Institute, which has campaigned on RE for thirty years, said:
"These proposals would dismantle a long-standing framework that carefully balances educational needs with sensitivity to the local community and protects the right of freedom of conscience. Parents would no longer have the right to withdraw their children from lessons if they wish to do so for conscience reasons.
"A new committee of 'non-religious' groups would effectively have a veto over the content of the religion curriculum. And there would be no limit on how much time in the new curriculum is spent on non-religious ideas. Religion could increasingly be forced out of the picture. This is not in keeping with the values of a diverse, democratic society.
"Humanists and Secularists have apparently succeeded in persuading the Education Minister to launch a bill which makes a direct attack on the teaching of religion. There is precious little religious content in the school curriculum already. Now the one subject designed to allow pupils to learn about religion is subject to a power-grab by groups actively hostile to all religion. At a time when religious literacy it as a low ebb, and intolerance towards religious people is increasing, this is a deeply regressive move."
The Christian Institute has produced a comprehensive briefing on the Curriculum and Assessment Bill. This can be accessed here (Compulsory atheism lessons).
ENDS
Notes for Editors
The Christian Institute is a non-denominational registered charity, which seeks to promote the Christian faith in the UK.
It was founded in 1991 by Christian church leaders and professionals and it currently campaigns on a range of issues including marriage and the family, child protection, pro-life concerns, drugs, religious liberty and education, as well as Christianity and the constitution.
Humanists UK's publicly stated goal in 2011, prior to their organisational makeover – a society free of religion:
"the mental and moral improvement of the human race by means of the advancement of humanism, that is to say, the moral and social development of the community free from theistic or dogmatic beliefs and doctrines; and the advancement of education and in particular the study of Humanism and the dissemination of knowledge of its principles." (Emphasis added)
From the objects clause of the trust deed of Humanists UK (then called the British Humanist Association) as registered with the Charity Commission until 2011.
Campaigns by NSS and Humanists UK to ban all faith schools: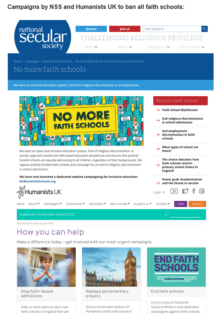 Popularity of faith schools

Approximately 12% of pupils in Wales attend a maintained Catholic or Church in Wales school. Of a total of 469,176 pupils in Wales in 2019-20,[1] the Catholic Education Service recorded 28,400 attending a maintained RC school[2] and figures for Church in Wales schools are at 26,000.[3] Of pupils attending a RC school, 25% do not come from Christian backgrounds and 32.2% of these reported having no faith at all.[4] [1] Pupil Level Annual School Census (PLASC), Welsh Government, 2020, see https://statswales.gov.wales/Catalogue/Education-and-Skills/Schools-and-Teachers/Schools-Census/Pupil-Level-Annual-School-Census/Pupils/pupil-by-localauthorityregion-typeofschool as at 13 January 2021

[2] Catholic Education Service Digest of 2020 Census Data for Schools and Colleges in Wales, Catholic Education Service, 2020, Table 2.1.1, page 10, see https://www.catholiceducation.org.uk/images/CensusDigestWales2020EnglishText.pdf as at 13 January 2021 [3] 'Schools', Church in Wales, see https://www.churchinwales.org.uk/en/about-us/education/ as at 13 January 2021 [4] Catholic Education Service Digest of 2020 Census Data for Schools and Colleges in Wales, Catholic Education Service, 2020, Table 2.2.6, page 14, see https://www.catholiceducation.org.uk/images/CensusDigestWales2020EnglishText.pdf as at 13 January 2021

Welsh Government Consultation on Right of Withdrawal
The Education Minister, Kirsty Williams, is pushing ahead despite the RE plans being rejected in her own public consultation, ending on 25 March 2019, attracting over 1,700 responses.

Do you agree with the proposed approach to RE?
Yes 22.0%
No 62.2%
Don't know; no response 15.9%
Total 1,101

Should the right to withdraw from RE and RSE (relationships and sexuality education) be retained?
Yes 86.9%
No 9.1%
Don't know; No response 4.0%
Total 1,635

Ensuring access to the full curriculum
(Closed 28/11/19)

QUESTION:
"What implications would there be for learners, parents/carers and schools if all learners were required to receive RE and/or RSE lessons in the new curriculum?"
ANSWER:
"The most common response was negative, with 991 recorded cases (60 percent); 349 were conditional, expressing both positive and negative implications (21 percent); and 320 were found to be positive (19 percent)." (See page 8)
---