Resources
How has your MP voted on specific moral issues?
Find out now
The Christian Institute's audio resource on the go
Listen now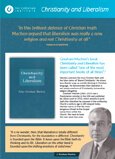 Gresham Machen's book Christianity and Liberalism has been called "one of the most important books of all times".

The Reformation marks the beginning of the modern era and was "the greatest revival of the Christian church since Pentecost".

There has now been a litany of controversial 'British values' inspections by Ofsted. Sold to the public as a solution to extremism, instead the inspections have proved to be a tool for promoting political correctness.