Resources
How has your MP voted on specific moral issues?
Find out now
The Christian Institute's audio resource on the go
Listen now

Millions of people today unknowingly hold Gnostic beliefs that are central to the transgender debate.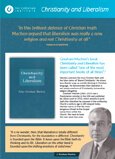 Gresham Machen's book Christianity and Liberalism has been called "one of the most important books of all times".

The Reformation marks the beginning of the modern era and was "the greatest revival of the Christian church since Pentecost".